CWS PureLine Surface Cleaner NT
Services
Mounting and maintenance of dispensers
Repair or, if necessary, replacement of dispensers
Installation
Highlights
Non-Touch sensor for non-contact operation 
Color coded caps for safe, fault-free refilling  
Powered by batteries. 
Equipped with a chip and therefore 100% IoT ready 
Exchangeable panel colors 
Available colors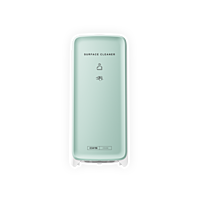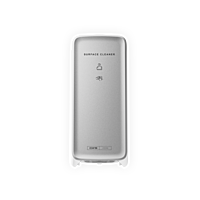 Surfaces in washrooms, such as flush knobs, door handles and faucets, are hotbeds for pathogens. But also outside the washroom hygiene is important. The CWS PureLine Surface Cleaner offers a practical and intuitive solution to help clean these objects and many more. For example, desks in offices, changing tables in child care facilities and tables in restaurants.  
The Surface Cleaner uses an alcohol-free, ready-to-use foam, that leaves no skin-irritating residues and is effective against all enveloped viruses, such as Corona-, Rota-, Papova-/Polyomaviruses. The disinfectant is VAH-certified, suitable for all common surfaces and free of fragrances, aldehydes, parabens and silicones. Thanks to drip-free foam dispensing and the auto-stop Function, handling is very easy and user-friendly.  
One 300 ml liquid bag dispenses around 500 portions. Thanks to the 144ml reserve tank, you'll never run out. A sensor on the Surface Disinfectant dispenser enables touch-free operation. The color-coded caps and the use of the same key for all PureLine dispensers, make sure that refilling is safe and fault-free.  
The chip the CWS PureLine Surface Cleaner Non-Touch is equipped with, allows for regulation of output and will offer more benefits in the future. Ideal in places with multiple washrooms and high user frequency, such as office buildings, health and care facilities and schools. 
One of three panel colors, White, Silver or Mint, can be selected for the Surface Disinfectant dispenser, so it always matches the rest of your washroom and its equipment perfectly. 
Advantages
Practical Non-Touch Surface Cleaner for washrooms with high hygiene standards 
VAH- certified. Does not leave skin irritating residues 
Free of fragrances, aldehydes, parabens and silicones  
Dermatologically tested 
Sustainability
Soap pouch empties fully in the reservoir 
Made in Europe