CWS PureLine Toiletpaper
Services
Mounting and maintenance of dispensers
Repair or, if necessary, replacement of dispensers
Full service by CWS
Highlights
Reserve roll comes down automatically 
Integrated roller brake 
Three colors available 
Available colors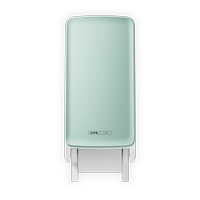 The CWS PureLine Toiletpaper dispenser is the perfect device for any washroom with average user frequency. The toilet paper dispenser can store two rolls above each other. The dispenser can only be opened with a key, so the rolls cannot be removed by visitors. The reserve roll ensures there is enough toilet paper and comes down automatically after the first roll is used. The product has an integrated roll brake to prevent unintentional endless unrolling of the toilet paper. 
Because the CWS PureLine toilet paper dispenser is available in three beautiful colors, White, Silver and Mint, it fits effortlessly into any toilet and matches the other equipment in the washroom. 
Advantages
Toilet paper dispenser for toilets with medium user frequency 
Two rolls in one dispenser 
Rolls protected against removal by a lock 
Sustainability
CWS products are designed to promote the economical use of consumables. For example, the integrated roller brake prevents endless unrolling and unnecessary waste of toilet paper. 
100% sustainable paper 
Made in Europe