Fluorine-free foam extinguishers
Services
Maintenance
Installation
Consulting
Instruction / Training
Highlights
Biodegradable extinguishing agent
Very high extinguishing capacity
Extinguishing agent complies with European regulations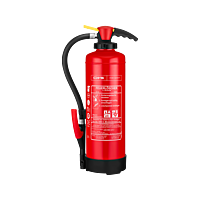 Fluorine-free foam extinguishers - advice, installation & maintenance
Foam as an extinguishing agent is often used in portable and mobile fire extinguishers, but it often contains poly- and perfluorinated chemicals that can lead to harmful consequences for the environment and health. Because of this, a limit value for perfluorooctane sulfonic acid (PFOS for short) already exists on the part of the European Union. In addition, a future ban on extinguishing agents containing perfluorohexanoic acid is likely.
The fluorine-free foam extinguisher from CWS is biodegradable and complies with the European directives. We do not add any perfluorinated surfactants.
Thus, the fluorine-free foam extinguisher from CWS quickly and reliably extinguishes fires of:
Fire class A: Solid & organic substances (e.g. wood, paper, textiles).
Fire class B: Liquid substances & substances that become liquid (e.g. varnish, tar, petrol).
The extinguishing performance of the fluorine-free foam extinguisher is not limited compared to a conventional foam extinguisher. This means that the fluorine-free foam extinguisher extinguishes very efficiently.
Our fluorine-free foam extinguishers are particularly suitable for indoor areas and electrical installations. Thus, foam extinguishers only lead to no or little extinguishing damage and do not cause any visual obstructions.
Maintenance of fluorine-free foam extinguishers
Fluorine-free foam extinguishers in commercial and public facilities require regular inspection. Consequently, according to DIN 14 406, they must be serviced by an expert at least every two years. Our fire protection experts will be happy to do this for you.
Advantages
For fire class A and B
Environmentally friendly
Easy to use, even for non-professionals
For electrical systems up to 1,000 volts (minimum distance 1 m)
For offices, sales areas, public buildings, airports, etc.
Sustainability
Our fluorine-free foam extinguisher completely dispenses with fluorine additives.
Thus, we already offer you an environmentally friendly and highly efficient foam extinguisher as an alternative.