Wireless alarm system
Services
Installation
Consulting
Maintenance
Acceptance
Planning & project engineering
Commissioning
Highlights
Cooperation with various manufacturers such as Telenot and Daitem 
Compliance with VdS classes A and B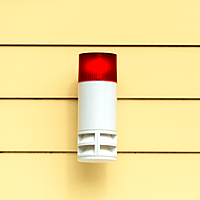 Wireless alarm system - advice, installation & maintenance 
The wireless alarm system connects all security solutions such as burglary and fire alarm systems as well as hazard detectors indoors and outdoors. The heart of the system is the wireless alarm centre. It processes all data from the detectors such as contact detectors, motion detectors or smoke detectors and forwards them in case of danger, e.g. to outdoor sirens. They are suitable for every type of building - from small residential properties to commercial buildings.
Wireless alarm systems thus serve as a wireless building security system that can be installed quickly. No or only a few slots are required for wiring. The modular design allows for easy and flexible expansion of the alarm system - ideal for existing buildings and renovations. In addition, components with conventional wiring or bus technology can also be integrated if required.
CWS wireless alarm systems comply with VdS classes A and B. In addition, CWS Fire Safety is certified as an installer for intruder alarm systems (EMA) and fire alarm systems (BMA) (DIN 14 675).
Inspection and maintenance of a wireless alarm system: Wireless alarm systems require annual maintenance and inspection. In our all-round carefree package, we carry out not only the installation but also the maintenance and servicing of your wireless alarm system - gladly also in combination with your fire alarm system. In addition, we offer you a 24/7 service 365 days a year
Advantages
Combines intrusion detection, fire detection and hazard detection systems with each other 
High flexibility and reliability
Wireless object security