CWS PureLine Disinfect Foam Non-Touch
CWS PureLine Disinfect Foam NT ohne Panel
CWS PureLine Disinfect Foam Panel white
CWS PureLine Disinfect Foam Panel silver
CWS PureLine Disinfect Foam Panel mint
CWS PureLine Disinfect Foam Non-Touch Silver
CWS PureLine Disinfect Foam Non-Touch Mint
Services
Mounting and maintenance of dispensers
Repair or, if necessary, replacement of dispensers
Installation
Highlights
100% airtight product path that prevents contamination 
Fill level indicator on both sides and LED status display 
Color coded caps for safe, fault-free refilling 
Equipped with a chip and therefore 100% IoT ready 
Exchangeable panel colors 
Same key for all PureLine dispensers 
Available colors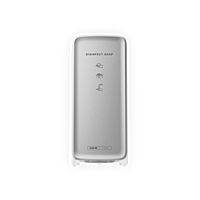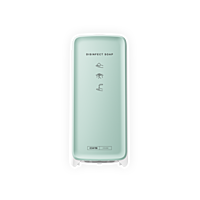 To protect and maintain your health, effective hand hygiene is essential. Washing hands with antibacterial soap is an important part of the hygiene concept. This helps to counteract the multitude of germs we come into contact with on a daily basis.  
The CWS PureLine Disinfect Foam Soap Non-Touch dispenser offers a high level of hygiene because it does not need to be touched during use. In this way, the dispenser itself does not become a carrier of germs. A second advantage of the sensor is its ease of use, which is a great benefit for children, the elderly or persons with limited mobility.  
The battery-operated disinfectant foam dispenser is filled with CWS PureLine Disinfect Foam Soap 600ml, supplying approximately 667 portions of soap. The 144ml reserve tank provides 100% availability; you will never run out of soap. Meeting all requirements for hygienic hand washing according to EN 1499, Disinfect Foam is bactericidal, levurocidal and limited virucidal. 
The CWS PureLine Disinfect Foam Soap Non-Touch dispenser is equipped with a chip, allowing maximum control over output via an app. A feature that will continue to offer new possibilities through development and will optimize the process chain. Ideal in places with multiple washrooms, such as healthcare facilities, office buildings and schools.  
Advantages
Touchless dispensing for hygienic and safe hand disinfection 
Supports concepts such as HACCP and LMHV 
Sustainability
VAH certified 
Customized dispensing quantity of the soap 
Soap pouch empties fully in the reservoir 
Made in Europe