CWS PureLine Dry
CWS PureLine Dry Panel white
CWS PureLine Dry Silver
CWS PureLine Dry Mint
Services
Mounting and maintenance of dispensers
Repair or, if necessary, replacement of dispensers
Installation
Highlights
Separation of fresh and used towel thanks to a two-chamber system 
Retraction system pulls in used towel portions 
Maintenance-friendly fill level indicator 
Easy replacement of the towel roll thanks to the Easy Loading System 
"Blauer Engel" environmental label (RAL-UZ 77) 
Available colors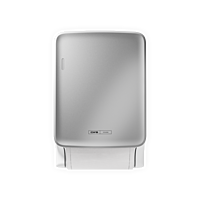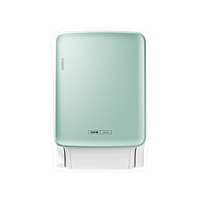 The CWS PureLine Dry is a cotton towel dispenser that guarantees cleanliness and sustainability in your washroom. Using cotton to dry hands is very pleasant, hygienic and above all a resource-saving solution. Not without reason has the dispenser been awarded the environmental label "Blauer Engel" (RAL-UZ 77) and the Hygiene Certificate of the Hygiene Institute Berlin. 
The cotton towel dispenser meets high hygiene requirements. Thanks to the two-chamber system, the fresh and the used towel are separated. This ensures that the user always has a new, fresh piece of towel at his disposal. The adjustable retraction system ensures that the used towel portions are automatically pulled into the towel dispenser. The CWS cotton towel dries the skin gently and gives a pleasant and clean feeling. 
The dispenser features a fill level indicator and the towel rolls can be changed effortlessly thanks to the Easy Loading System. One towel roll is good for about 110 portions of fresh cotton towel. The dispenser can be filled with Cotton towel roll Slim white and Cotton towel roll Slim blue, both with the Oeko-Tex® label. 
To make the CWS PureLine Dry cotton towel dispenser fit in effortlessly in any washroom, you can choose from three different panel colors: White, Silver and Mint. 
Advantages
Hygienic hand drying, without waste and disposal costs 
Soft towel for gentle hand drying 
Sustainability
Thanks to the CWS PureLine Dry cotton towel dispenser, not only does the user benefit, but certainly the environment. CWS is committed to environmental awareness and sustainability on a daily basis. Setting a good example with modern, smart products. Cotton towel rolls consume up to 48% less energy; the CWS cotton towel dispenser convinces with resource-saving cotton, which contributes to an overall waste reduction of up to 95%. This not only enables sustainable hand hygiene in the washroom, but also eliminates disposal costs due to the lack of waste.