CWS PureLine Foam
CWS PureLine Foam ohne Panel
CWS PureLine Foam Silver
CWS PureLine Foam Mint
CWS PureLine Foam/Cream Panel mint
CWS PureLine Foam/Cream Panel silver
CWS PureLine Foam/Cream Panel white
Services
Mounting and maintenance of dispensers
Repair or, if necessary, replacement of dispensers
Installation
Highlights
Color coded caps for safe, fault-free refilling 
One key for all PureLine dispensers 
600ml capacity for approximately 2000 portions 
Fill level indicator on both sides 
Exchangeable panel colors 
Available colors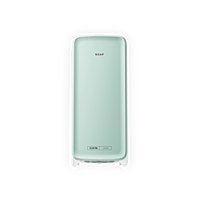 The PureLine Foam dispenser is a user-friendly dispenser for foam soap and suitable for many applications. With a choice of three panel colors White, Silver and Mint, the dispenser blends in perfectly with the rest of the washroom equipment. 
Because the soap is already foamed in the dispenser, consumption is significantly lower than with liquid soap and water usage is reduced. This and the drip free dispensing, make the CWS PureLine Foam Soap dispenser do well in terms of sustainability.  
The soap dispenser is operated with one hand via an ergonomic push lever, which ensures intuitive ease of use and improved hygiene. The soaps used are pH skin-neutral, are dermatologically tested and are characterized by excellent skin tolerance. The foam soap comes in 600ml pouches, good for approximately 2000 portions of soap. The dispenser is equipped with a reserve tank of 188ml, good for another 627 portions. The soap has been dermatologically tested and is pH skin neutral. It is suitable for people with allergies, ECARF certified and free of silicones, parabens, colorants and microplastics. 
To ensure easy refilling, the soap pouches all have a color-coded cap. 
Advantages
Rich foam soap 
Ergonomic push lever for intuitive use and improved hygiene 
Dermatologically tested and pH skin neutral 
Suitable for people with allergies 
ECARF certified 
Free of silicones, parabens, colorants and microplastics 
Sustainability
By foaming up the soap concentrate when operating the dispenser, water consumption is reduced by approximately 30 percent and soap consumption by 50 percent. This saves costs and simultaneously conserves valuable resources to protect our environment.  
Drip-free soap dispensing 
Certified with EU-EcoLabel 
Soap pouch empties fully in the reservoir 
Made in Europe