CWS PureLine Handlotion Non-Touch
CWS PureLine Handlotion NT ohne Panel
CWS PureLine Handlotion Non-Touch Silver
CWS PureLine Handlotion Non-Touch Mint
CWS PureLine Handlotion Panel white
CWS PureLine Handlotion Panel mint
CWS PureLine Handlotion Panel silver
Services
Mounting and maintenance of dispensers
Repair or, if necessary, replacement of dispensers
Installation
Highlights
Easy to use, due to the sensor 
Color coded caps make refilling easy and error-free 
Equipped with a chip and therefore 100% IoT ready 
Available colors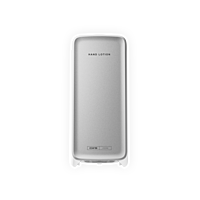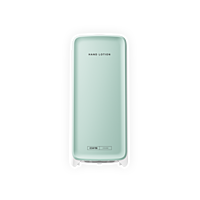 Frequent washing and disinfecting of your hands can cause your skin to become dry over time. With the CWS PureLine Handlotion Non-Touch, you can give your hands the care they deserve. The lotion offers the skin softening, protection and long-lasting care. It is pH skin-neutral, dermatologically tested and absorbs quickly. In addition, the lotion is anti-allergenic and completely free of silicones, parabens, colorants, micro plastics and liquid polymers. 
The CWS PureLine Hand Lotion Non-Touch dispenser can be filled with 450ml pouches, equivalent to approximately 900 servings. When the filling runs out, a reserve tank of 144ml provides space for another 288 portions. Thanks to the color-coded caps and the use of the same key for all PureLine dispensers, refilling is easy and error-free. The dispenser operates on batteries and is not dependent on power supply.  
Due to its sensor, the dispenser can be used in a hygienic and easy way, making it especially suitable for the elderly or people with reduced mobility. The auto-stop function and drip free dispensing, allows clear dosing and prevents lotion residue on the sink or floor. Like all PureLine products, the front panel is available in three sophisticated colors: White, Silver and Mint. 
The PureLine Handlotion Non-Touch dispenser is equipped with a chip, allowing maximum control of output. Developments in the near future will help to optimize the process chain, enabling assurance of quality. Ideal in washrooms with high user frequency, such as office buildings, health facilities, schools and day-care centers. 
Advantages
CWS PureLine Handlotion is a moisturizing care formula 
Ideal after any hand washing routine 
Lotion with mild care formula  
Free from fragrances, silicones, parabens and colorants 
Sustainability
CWS products are designed to promote the economical and resource-saving use of consumables 
Drip-free output to prevent unnecessary waste 
Customized dispensing quantity of lotion 
Free from micro plastics and liquid polymers 
Pouch empties fully in the reservoir 
Made in Europe