CWS Alpha Welding Overall DarkGrey w/ Kneepad Pockets
CWS Alpha Welding Overall DarkBlue w/ Kneepad Pockets
Highlights
Low fabric weight of 335 g/m2
Stand-up collar with press stud, concealed press studs on the front
Hem with press stud adjustment, reach-through pockets on sides with concealed press stud
Bib inside with belt loops, fly with concealed zip, knee pad pockets
Two chest pockets (left one with a bellows design), front pocket, a reinforced bellows folding rule pocket on the left, a reinforced bellows leg pocket on the right and a back pocket on the right (all patch pockets with a flap and concealed press studs)
Available colors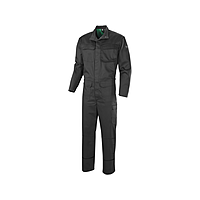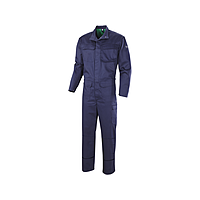 The welder overalls make the ideal workwear for employees who perform observational or light welding work: they offer ideal protection from weld spatter, molten iron splashes, heat and flames. This is especially true if the employee has to perform activities bending over, lying down or kneeling. Nothing slips – the neck, arms and legs stay covered at all times. The integrated knee pad pockets provide additional comfort when kneeling.
CWS uses cotton with a Proban® finish for this protective welding garment. Thanks to probanisation, the overalls combine high flame resistance with a particularly lightweight feel, since the material weighs just 335 g/m2. The material used for these welding overalls is also very robust.
With a total of six pockets, there is plenty of space to store tools. The left breast pocket, the folding rule pocket and the leg pocket with bellows option are especially roomy. With heat and flame protection in mind, CWS designed the pockets with flaps and concealed press studs. The front, stand-up collar and reach-through pockets on the sides all feature concealed press studs. The cuffs can be adjusted in width by the employee as required.
Our customer representative will be happy to show you how company logos or name tags can be applied to the clothing.
Advantages
These welder overalls safeguard the wearer against heat, flames, molten iron splashes and weld spatter. They are ideal for light and observational welding work. What's more, they are incredibly comfortable to wear.
100 % FR cotton
Protection against heat/flames and weld spatter
Sustainability
The washing and drying processes in our industrial laundries use electricity and other energies as efficiently as possible. Fresh water is used repeatedly instead of just once. CWS develops and processes durable and recyclable workwear with textiles and raw materials which are as sustainable as possible. Renting clothing from us for years saves resources. Instead of replacing damaged items immediately, we repair garments professionally wherever and whenever possible. CWS ensures that its suppliers operate in accordance with ethical and sustainability standards. They have all committed themselves to the requirements of the Business Social Compliance Initiative (BSCI). and CWS additionally audits suppliers in risk countries to verify their compliance with the BSCI Code of Conduct.