CWS Compact Line Coat Men DarkGrey
CWS Compact Line Coat Men DarkBlue
Highlights
Blend of 65% polyester and 35% cotton
Lapel collar for an appealing look
Ventilation eyelets under arms
Practical, closable pockets for a variety of tools
Available colors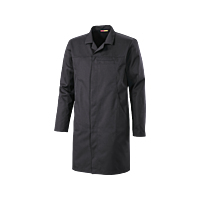 This coat is a real all-rounder. Boasting a professional look, it offers a wide variety of functions and is comfortable to wear, even when the going gets tough. It can also be worn over other work clothes without any problem.
The coat is made from a well-balanced polycotton blend, plus it features ventilation eyelets under the arms and adjustable sleeves, making it the perfect garment for a whole range of situations.
The many practical pockets for indispensable tools and other important items are also ideal. Its sophisticated design is rounded off by the comfortable cut, lapel collar and concealed row of buttons.
Advantages
The coat makes a great impression with its attractive details. It doesn't matter whether you choose the dark grey or dark blue, both versions can be ideally combined with other articles from the CWS Workwear range. Anyone with plenty planned at work will love the Compact Line coat.
Sustainability
The development of sustainable clothing is a matter close to our hearts. Our Compact Line, bearing the Supporting Fairtrade Cotton label, is a great example of this. The cotton used is sourced from the Fairtrade programme, which is committed among other things to using fewer chemicals and promoting fairness in cotton production. And that is great for one thing in particular: our environment.