CWS PureLine Disinfect Gel Non-Touch
CWS PureLine Disinfect Gel NT ohne Panel
CWS PureLine Disinfect Gel Panel white
CWS PureLine Disinfect Gel Panel silver
CWS PureLine Disinfect Gel Panel mint
Services
Mounting and maintenance of dispensers
Repair or, if necessary, replacement of dispensers
Installation
Highlights
Application without water 
Non-Touch sensor for non-contact operation 
Double-sided fill level indicator and LED status display 
Easy refilling, thanks to the colored caps  
Equipped with a chip and therefore 100% IoT ready 
Available colors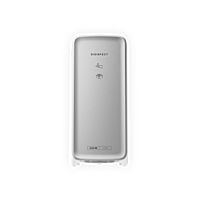 Disinfecting the hands is a good addition to hand washing and increases hygiene. In many industries it is essential, to protect the health of employees and customers. Sensor-controlled disinfectant dispensers such as CWS PureLine Disinfect Gel Non-Touch offer a high standard of hygiene, as the dispenser does not need to be touched during use and therefore cannot itself become a carrier of pathogens. 
The CWS PureLine Disinfect Gel is bactericidal, levurocidal, tuberculocidal and effective against all enveloped and non-enveloped viruses. It meets all requirements for hygienic hand disinfection according to EN 1500 and for surgical hand disinfection according to EN 12791. In addition, it supports concepts such as HACCP, LMHV and similar systems. The skin tolerance of the disinfect gel has been dermatologically confirmed. The moisturizing and skin-softening substances, prevent dehydration of the hands.  
The dispenser can be filled with 700 ml pouches, which is equivalent to approximately 466 servings. Error-free refilling the dispenser is now extra easy, thanks to the colored caps on the pouches and the use of the same key for all PureLine dispensers. The dispenser is battery operated and therefore can be placed anywhere. 
The CWS PureLine Disinfect Gel is VAH-certified and compatible with all types of soap. The sensor-controlled CWS disinfectant dispenser is very easy to use, thanks to its sensor. This is a great advantage for children, elderly and people with restricted mobility.  
Advantages
For easy, hygienic and safe hand disinfection in areas with high hygiene requirements, such as washrooms, kitchens or care facilities 
Meets all requirements for hygienic hand disinfection according to EN 1500 and for surgical hand disinfection according to EN 12791 
CWS PureLine Disinfect Gel is bactericidal, levurocidal, tuberculocidal and effective against all viruses 
Supports concepts such as HACCP, LMHV and other systems 
Skin compatibility dermatologically confirmed 
With moisturizing and skin-soothing substances 
VAH-certified 
Sustainability
Drip-free disinfection gel dispensing 
Auto-stop function 
Made in Europe 
Soap pouch empties fully in the reservoir