CWS Cosmetic Tissues Comfort
Services
Full service by CWS
Repair or, if necessary, replacement of dispensers
Mounting and maintenance of dispensers
Highlights
Premium quality
2-ply cosmetic tissues
Available colors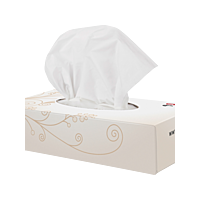 The cosmetic tissues come in a box with a stylish design that easily fits into any hotel room or wellness oasis. The wipes are premium quality and FSC certified. They are made of 100 % cellulose and have 2 layers, ensuring a pleasant feeling on the skin. Each box contains 100 sheets of cosmetic wipes. The easy removal of the tissues from the box is particularly hygienic.
Advantages
The perfect complement for hotel rooms and wellness oases
Sustainability
CWS believes in promoting sustainability and takes an environmentally conscious approach in the development of our projects. Our cosmetic wipes are FSC-certified, which ensures fair and responsible treatment of man and nature.